Welcome to Ricky's Party Rentals!
Proudly servicing Fontana, Bloomington, Rialto, Rancho Cucamonga, Upland, and Ontario, RickysPartyRentals.com has everything you need to create, entertain, and amaze your guests. Let us help you design the perfect celebration space for your family gatherings, wedding receptions, or corporate functions. Here you'll find hundreds of high quality party and event rental equipment items, like elegant table & chair settings, dinnerware and catering equipment, and the popular inflatable jumpers, slides and more! We strive to provide the best service and highest quality of rentals available. From backyard birthday parties to weddings and quinceaneras, we have all you'll need and we will insure your rentals will arrive in excellent condition.
Stay up to date on all the latest party trends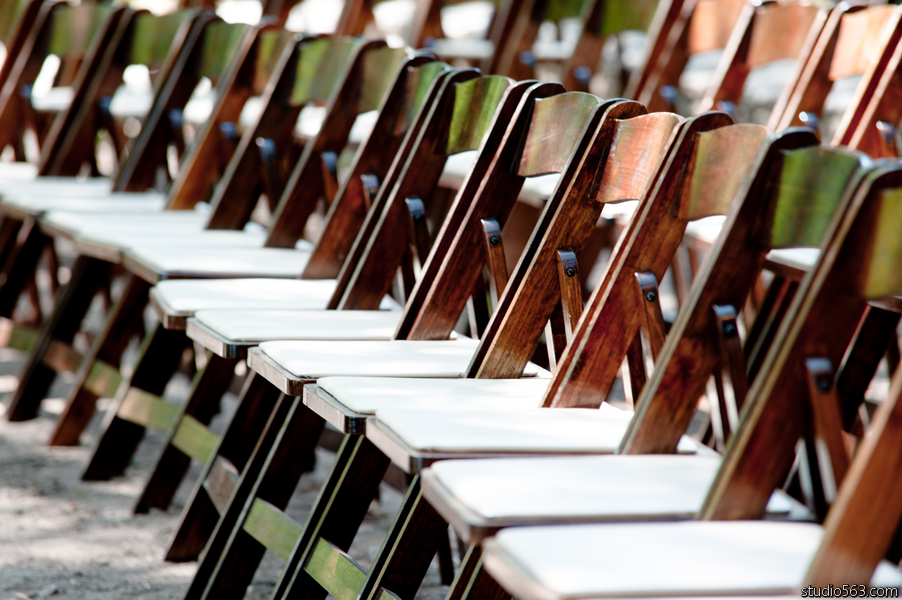 Tables & Chairs
Tables and Chairs are the backbone to any event. We have a large selection of tables and chairs to choose from to make your event look picture perfect while still providing comfort to your guest.


View Table & Chairs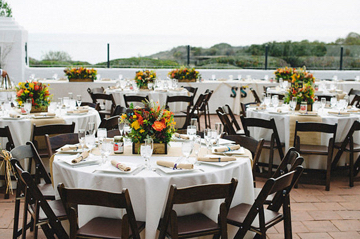 Linens
Complete your table setting with some of our quality linens. We carry a large verity of sizes and styles to match perfect with what ever theme you have in mind. Our freshly pressed linens with be sure to add that touch of elegance to your event.
View Linens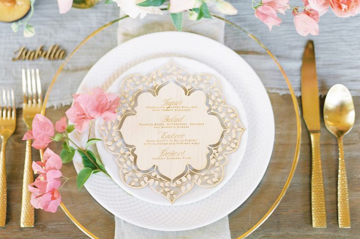 Dinnerware
From plates and silverware to glasses and charger plates we have we have just what you need to help serve all your guest a unforgettable meal. with quality and cleanliness our main priority all you have to do is provide the food.
View Dinnerware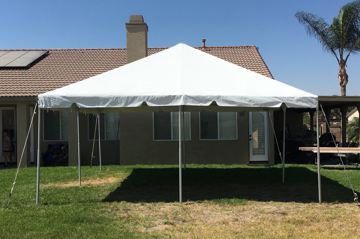 Tents
Our large variety Canopy tents will ensure your guest absolute comfort from the elements. From small gatherings to large events, We have just what you need to accommodate all your guest.


View Tents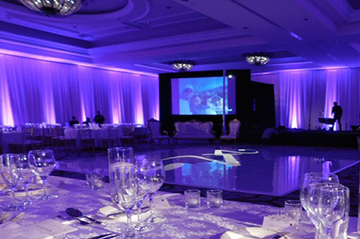 Drapery and Backdrops
Having the right food service equipment can make all the difference at your event. We have just what you need to serve your food in style while also keeping your food worm, your refreshing drinks ice cold.
View Drapery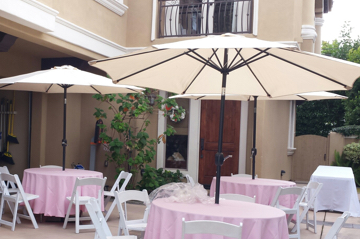 Party Extras
Find all those little extras that you need to tie it all together here. Need a patio heater? We have plenty. Or top off that Hollywood style red carpet party with our Stanchion Post.


View Party Extras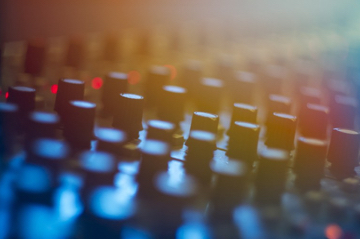 Audio and Video
Having the proper audio and video equipment is essential to making sure your guest and see and hear the message you are tying to send. We have a ever growing selection of Speakers, Video monitors, podium rentals and so much more.
View Audio/Video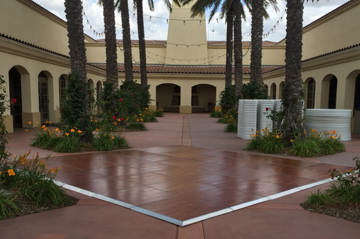 Flooring
Although underestimated, flooring is an important part of any well run event. Your guest can dance the night away on our wood dance floors. Having a ground braking ceremony? our Black and green turf selections will we a perfect fit.
View Flooring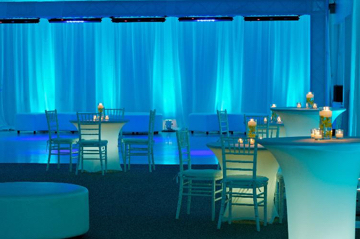 Lighting
Help give your party a great ambiance by adding lighting to fit perfect with any theme you are trying to achieve. Lighting can help set the seen of any party like winter wonderlands, rustic backyard weddings, night clubs and so much more.
View Lighting
Check out our awesome Yelp Reviews!
Ricky's Party Rentals services the following Cities: Fontana, CA; Rancho Cucamonga, CA; Ontario, CA; Upland, CA; Claremont, CA; Montclair, CA; Pomona, CA; Chino, CA; Chino Chills, CA; La Verne, CA; Rosena Ranch, CA; Eastvale, CA; Mira Loma, CA; Jurupa Valley, CA; Riverside, CA; Norco, CA; Corona, CA; Colton, CA; Grand Terrace, CA; Rubidium, CA; Highland, CA; Redlands, CA; Loma Linda, CA; and San Bernardino, CA.
We specialize in the following: Table and Chair rentals, Canopy Tent Rentals, Bounce House Rentals, Jumper Rentals, Cotton Candy Machines, Tablecloths Rentals, Napkin Rentals, Pintuck Tablecloths rentals, Bar Rentals, Patio heater rentals, Helium Tank rentals, Snow Cone machines, Popcorn Machine rentals, Waterslide rentals, Slide Jumper rentals, Speaker Rentals, Uplight Rentals, Chandelier rentals, Kid Chair rentals,White Resin Padded Folding Chair rentals, Fruitwood Wood Padded Folding Chair Rentals, Black Wood Padded Chair Rentals, Gold Chiavari Chair Rentals, Silver Chiavari Chair Rentals, quinceaneras, quinces, Weddings, Dinner parties, Baby showers, Gender reveal parties, Kids Birthday Parties, 21st birthday parties, sweet 16's,